Dining Suggestions for your Day of Arrival
2 QUICK INNKEEPER TIPS for first day LUNCH & DINNER:
Before you depart for Sedona you may want to consider advance dinner reservations for at least your first night. This can be important because the more popular restaurants sometimes sell out of space early in the day, especially in peak season. You may wish to review our entire list of popular Sedona Restaurants, which includes locations throughout the entire Sedona area.
After a full day of travel, we find that many arriving guests prefer to dine close to Canyon Villa on their first evening. For proximity as well as ambience and a great experiences we suggest CUCINA RUSTICA in Tequa Plaza. And if you arrive early in the day, the JUNIPER BAR & GRILLE is a good option for a quick lunch.
Both are conveniently located within minutes of our Sedona Bed and Breakfast Inn.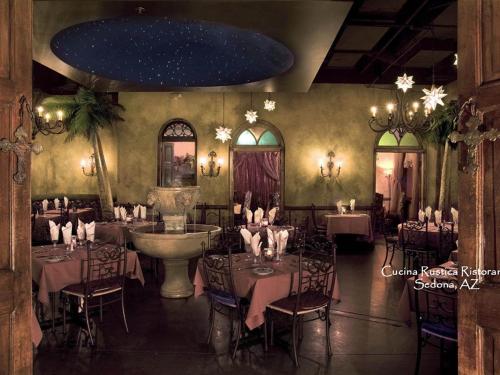 CUCINA RUSTICA
(Dinner Only)
The menu at Cucina Rustica is best described as an authentic Mediterranean - Italian Cuisine prepared with a unique Southwest flair. Located in Tequa Plaza, The Tuscany interior of this new restaurant is breathtaking and the mood and dress is casual. Because of the wide popularity of Cucina Rustica, advance reservations are important, especially if you wish to dine with them on your first night here. Normal hours of operation are from 5:00 PM to 9:00 PM.
MAP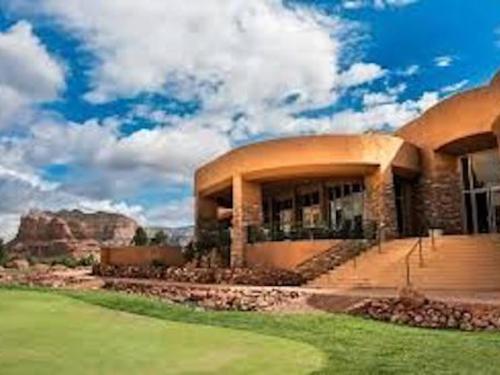 JUNIPER BAR & GRILLE
at the
Sedona Golf Resort
(Open for BREAKFAST & LUNCH only)
If you arrive early, this is a convenient place for a casual lunch overlooking the golf course.
Located just a little over a mile from Canyon Villa on Bell Rock Blvd, this upscale restaurant has Indoor and Outdoor casual dining with beatiful views overlooking the putting green and a view of Bell Rock & Couirthouse Butte. Hours: 8:00AM to 4:00 PM every day of the week including weekends...
MAP
REQUEST EVENING DINNER RESERVATIONS
Both restaurants will have menus available when you click thru to their websites. If you have any questions or when you have made a decision, just call or send us your reservation request. We'll take it from there. Note that both of these restaurants offer outdoor patio seating. So let us know if you prefer to sit outdoors! (weather permitting)
As respects either our breakfast or appetizer hour here at Canyon Villa, if you have any special dietary needs and/or food allergies, just let us know about these in advance of your arrival so that we are better prepared to serve your specific needs during breakfast. We do everything we can to accommodate all dietary needs, restrictions, and preferences.
See you soon,
Les and Peg
Owner\Innkeepers
Canyon Villa Bed and Breakfast Inn of Sedona
800-453-1166